By the beginning of 1939, the clouds of war were on the horizon. I was twenty-one and about to graduate as an honours student in physics from the University of Manchester.
In the spring, Professor P.M.S. Blackett, the Professor of Experimental Physics, took me aside, in great confidence, and revealed that he was advising the Government on military research (he was, in fact a prominent member of the UK Cabinet Committee for the Scientific Survey of Air Defence – known as the Tizard Committee after its Chairman, Sir Henry Tizard). He told me he was involved in the pre-selection of young scientists for a highly secret defence research project. He would not press me for an immediate answer, but strongly advised that I agree to be interviewed when the time came. He seemed to be certain that war with Germany was inevitable. So, after graduation in the summer of 1939, I found myself with an appointment for an interview at a building in Grosvenor Square, London, along with a couple of my Manchester colleagues and one or two others. In my turn, I was ushered into the interview room and confronted by two important looking men at the other side of a desk. One was rather portly and forbidding in appearance. The other was shorter, plump and round-faced, had a clipped Scottish accent and a Pickwickian air of benevolence. It was later that I digested the fact that they were, respectively, C.P. Snow (later Lord Snow), author of many novels, Civil Service Commissioner and, at that time Advisor to the Government on the Selection of Scientific Personnel and Robert Watson-Watt (later, Sir Robert), the inventor of radar. Fifty-two years later, in 1991, a postage stamp would be issued in England to commemorate Watson-Watt's achievements.
The two interviewers seemed to take my academic record for granted, but surprised me by pursuing instead my experience in electronics and instrument design, which had been largely acquired at home through an early interest and involvement in radio. Blackett had no doubt briefed them about my modest reputation in experimental physics. They must have been satisfied because they told me on the spot that I had a job as a Junior Scientific Officer in the Scientific Civil Service, at two hundred and forty pounds a year. I was to report to Bawdsey Manor, in Suffolk, on August 11th., 1939. However, they were not allowed to tell me what kind of work was involved nor the purpose of the establishment I was joining. That would be revealed in Bawdsey, after I had signed the Official Secrets Act.
I suppose we rarely recognize the major turning points in our lives when they arrive. That was certainly one of them. It had a great influence on the direction of the rest of my life.
---
The interview with Snow and Watson-Watt brought to an abrupt end the Lancashire phase of my life, which was lived almost entirely in the period between the two world wars. It began in 1917, in the village of Barrow and ended when I left for Bawdsey in August 1939.
Barrow is in the heart of the Ribble Valley. (See "Ribble Valley History"). The centre of activity in the Valley is the market town of Clitheroe. Viewed from the Norman castle, which towers over the town, the dominant feature of the landscape is Pendle Hill, notorious for the Lancashire witches. The village of Whalley lies three or four miles to the South, with its Abbey in ruins but with exquisite wood carvings in the Parish Church , where I was christened. Between Clitheroe and Whalley and a mile from the banks of the river Ribble is the village of Barrow where I was born at number 2, Abbey Terrace on the fourth of August, 1917.
Bounded on one side by the Pennines and on the other by the Fells, the river Ribble is joined, near Whalley, by its picturesque tributaries, the Hodder and the Calder. Complementing the breathtaking views provided by nature, man has created his own beauty over the centuries in the parish churches, abbeys, castles, country houses and even in the pubs which abound in rural Lancashire. Indeed, Ribblesdale boasts some of the most beautiful countryside in England. It lies a few miles to the north of the industrial sprawl of south Lancashire and the Midlands but is as peaceful and unspoiled as if it were 1000 miles away.
At the time we lived there, Barrow had a population of a few hundred and was known mainly for two things: calico printing and cricket. It was centred on a factory of the Calico Printers' Association (CPA) and consisted of three or four terraces of mill houses lining the main road which led from industrial Lancashire to the West Riding of Yorkshire and also, through the Trough of Bowland, to the Lake district. Consequently, even in the 1920s, there was plenty of traffic through the village. After all there were several million people within 40 milesof us, mainly to the South and East (Including the cities of Manchester, Liverpool, Leeds, Sheffield, Huddersfield, Halifax, Fleetwood, Blackpool, Preston, Southport, Birkenhead, Blackburn, Bury, Bolton etc.) I was soon able to recognize the passing cars as Rolls Royces, Daimlers, Delages, Humbers, Rileys, etc. as well as the humbler Austins, Morrises and Fords.
The CPA employed many of the people in Barrow and, to provide recreation for them, supported three cricket teams in the Ribblesdale League. As the Ribblesdale League held a high status in amateur cricket, this representation was quite disproportionate to the size of the community and brought into Barrow and into my young life some of the leading sports figures of the time. The cricket field was close to the CPA factory and directly opposite Abbey Terrace.
Early in my fourth year (spring, 1921) I started attending the village school. As I remember, there were only two classrooms. While one was more senior than the other, grades were not clearly defined and progress depended mainly on individual application and talent.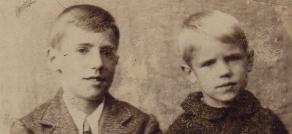 The Author (right) with brother Jack (c.1922)
I like to think I recall my first day at school, but that may only be because the Headmaster and his wife – Mr. and Mrs. Clayton – were always ready to tell family, neighbours and friends about it. Apparently I had arrived in class the first morning just in time for a visit by the Head to say a few kind words to the new arrivals. A taciturn disciplinarian, Mr. Clayton had no great fund of small talk. His approach to me was "It's a wet morning, isn't it?". Reflecting that it had not been raining when I came to school, I scowled (a characteristic expression, I'm told), got up from the desk, walked to the window, looked out, ascertained that it was indeed raining, walked back to the desk, sat down and said "Yes". Whether this was a sign of innate curiosity or of a natural suspicion of teachers I shall never know, but I have retained both characteristics to this day.
Whatever the reason, my debut left a lasting impression on Mr. Clayton, for he recounted the story to me 15 years later when, in his retirement, he congratulated me on graduation from school with a Higher School Certificate and a Scholarship to university.
---
The family was not well off. My father, who had shown great promise as an artist as a youth was the severest critic of his own work and effectively turned his back on it, long before I was born, and settled down, more or less, as a house painter and decorator. My favourites among his early works that were on the walls at home, were a quite beautiful head of an Italian boy in charcoal and an oil painting of a barnyard scene, all painted in the 1890s. He destroyed these and all his other works just before he died in 1947. If they did not meet his standards they were not good enough for anyone else. Mother managed to salvage one or two of his photographs (see below).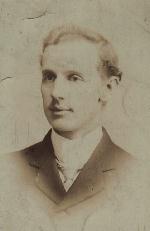 My father: A self-portrait (c.1892)
For a time he had a photographic studio near to his father's home in Nelson, on the opposite side of Pendle Hill from Clitheroe. One noteworthy memento is a photograph of a Benz Velo automobile he took in 1896. It must have been a rare sight in the North of England because I believe Benz produced only 62 Velos that year. The photograph has excellent definition and shows no sign of deterioration in nearly a century. I do not know what kind of camera he used. It could have been the quarter-plate triple-extension Contessa-Nettel that I later used myself. Although, independently, I became a photographic enthusiast in my early teens, and even photographed local babies to earn pocket money at one period, it was not until years later that I discovered that my father had once been a professional photographer.
When I say we were not well off it means the family income in the 1920s was about £2 to £3 a week depending on the amount of work available. At that time, in England , for comparison, a middle-management Civil Servant – a "principal" – would earn £15–£20 a week. In spite of the low income I never recall being short of good food. That is because food, rents and services were much cheaper in relation to income then than they are now. For instance our average weekly income of say £3 would buy 240 plates of fish and chips (a staple food in Lancashire) or 240 haircuts and was 24 times the rent of our 3-bedroom house. In Ottawa today a gross salary of $90,000 a year would buy the fish and chips but would fall far short in terms of rent and haircuts! And, with five or six times as much income as we had, the middle-management Civil Servant of those days could afford the manufactured goods that were relatively so much more expensive than they are today and, therefore, out of our reach. A table radio in a wooden cabinet cost 3-4 weeks' of our income; the cheapest car 35 weeks'. So, possessions came very slowly with much scraping and saving, but we got along pretty well in all the essentials, thanks to my mother's careful management.
As very young children we used to acquire some small possessions from the "rag-and-bone man". This enterprising character set himself up on the pavement outside the village school and exchanged pencils, diaries, little games etc. for scraps of material and old clothes that our parents allowed us to take. His arrival was keenly awaited and it was always an exciting day when he appeared.
I remember spending my weekly penny of pocket money on Saturday mornings in the local sweet shop (candy store). Usually it was divided to buy a ha'p'orth (halfpennyworth) each of two kinds of candy. In summer it would be spent in time to carry the candy off to the cricket match, which took place from 11am to 7pm every Saturday on the cricket field which was within sight of our house.
---
The cricket field was the focus of our young life. On Saturdays we would sit on the wooden benches outside the boundary wire and watch every ball for eight hours, with a short break during the lunch and tea intervals. The cricket field was meticulously groomed by Joe Sherliker, the groundsman, who was a wonderful, memorable friend and coach to us youngsters, even though he would threaten dire penalties if we so much as set foot on his lovingly nurtured pitch before a match. In this environment it was no wonder that we were soon playing cricket ourselves. By the age of seven or so we were fielding stray balls during practice sessions of the third or second elevens and, occasionally, wonder of wonders, for the First Eleven. In recompense the men would occasionally 'give us a knock' in the nets. Joe let us use old equipment to play by ourselves some evenings, even though the bats and pads seemed huge and heavy. The long evenings at that latitude (54º) enabled practice to go on until well after 10 pm in midsummer.
Two of us were often given the job of maintaining the scoreboard during the Saturday game. The numbers were printed in white on metal sheets about a foot square which were hung by a hole in the top centre on hooks on the large scoreboard. In a high wind, this was a hazardous business for a small boy. I still have a bit of a scar on my nose where one of the falling 'numbers' neatly bisected it. Soon I graduated, by happy accident, to official scorer – at first for the Second Eleven and, later, for the First. This involved sitting in the scoring hut all day, along with the official scorer from the opposing team and entering the consequences of every ball in the team's official scoring book. It also involved travelling with the team on away matches in other parts of Lancashire. The men were always considerate of their young scorer and usually whipped round at the end of the game to raise a shilling or two – my first earned income and a veritable fortune at the time.
One of the village lads who shone on the cricket field was Cyril Washbrook who, later, became a famous opening bat for England. We used to travel to school together. I believe he was put in the Barrow First Eleven in the Ribblesdale League when he was 13 (less than half the age of most of the players) and I remember the opening partnership between him and Jim Crabtree (it must have been about 1929) in which they scored some 350 runs between them – setting what must be an all-time record for Saturday afternoon cricket. Cyril was well short of 5 feet while Jim was about 6' 2" and the Mutt and Jeff effect of their running between the wickets is not easily forgotten after all these years. Cyril was also an excellent fielder at cover point – no doubt taking after Eddie Paynter, who was the one Lancashire County professional allowed by regulations to play for the Ribblesdale league team. Eddie lodged next door to us at No. 1, Abbey Terrace. It was the answer to a childhood dream to have a Lancashire and England star as a next-door neighbour. Cyril Washbrook described his cricketing experiences in a book entitled "Cricket: the silver lining".
---
It was in about 1930 that Leary Constantine, the West Indian test cricketer (and lawyer) played as professional for Nelson, my father's home town on the other side of Pendle Hill from Clitheroe.. He was a friend of my grandfather and I recall meeting him more than once on weekend visits to Nelson. He was a talented all-rounder – an elegant figure on and off the field and an intelligent, gracious man, as was my grandfather, himself.
This came home to me years later when, during the war, I made my first visit to the United States. After a 28 hour flight in the Boeing Clipper flying boat, via Foynes and Botwood to Baltimore and the train ride from Baltimore to Washington D.C. , I hailed a taxi at Union Station.
"To the M-street Sheraton," I said.
"What part of Lancashire do you come from?" asked the driver, recognizing my accent.
"Near Clitheroe," I replied.
"What's your name?": "Whitehead".
"Did your father come from Nelson?": "Yes".
"Did his father have a grocery store in Lomashaye Road?": "Yes".
"Well," he said, "was your father Willie or Rennie?"
"Willie," I responded, rather stunned. "I was christened Rennie after my uncle. By the way, how long have you been in the United States?"
"Thirty-five years," he said.
So far as I recall that taxi driver was the first American I held a conversation with during that first visit to the United States.
We have a wonderful family portrait, taken by my father soon after the turn of the century, which shows my grandfather, grandmother and all ten adult 'children' – eight of whom were female. They all lived to a ripe old age. The last of them died in 1984.
My uncle Rennie, after whom I was christened (second from left), sowed enough wild oats in his youth to cause his father to give him the fare to Australia with instructions never to return. A few months later he turned up, broke, not having set foot outside Britain. So, in 1909, he was provided with a ticket to Canada, escorted to the ship and seen off. He never did return home, even though he spent some time in Britain in the Canadian Army. As far as we know, he spent most of his life in and around the islands between Vancouver Island and the mainland.
My mother was also one of ten children – 5 male and 5 female. Born in Halifax, in the West Riding of Yorkshire, she grew up in Barnoldswick and was Postmistress in the nearby village of Bracewell when my father met her. Her father's origin was always a mystery. He admitted to his wife that he had run away from home at the age of 16 and adopted a new name (Fenning), but he never revealed to her or anyone his real identity or origin. In the post-war years my Aunt Connie, who was a teacher in Earby, tried to trace his ancestry but was stopped dead when she discovered that he had arrived in Britain through the Port of Glasgow from parts unknown. "Fenning" is an Irish name and the best guess is that he came from Ireland or, perhaps more likely from an Irish-American family. Some of the things he said (about servants, grooms and a big house) seemed to indicate that he left a wealthy family after a monumental row with his father. He always kept a suitcase packed with smart clothes ready to return home. He never went.
---
Apart from cricket, my main recreation from a very early age was reading. We had few books in the house (and they were library surplus), but there was an excellent public library in Clitheroe overlooking the Market Square. The reading room was my home from home during these formative years. Among the books at home was "Mike" by P.G. Wodehouse which set me (and, later our son, Michael) on a lifetime of reading and re-reading everything Wodehouse has written. His stories were available in the Strand Magazine and I would keenly anticipate each new issue. Back issues of The Strand and similar magazines also carried Sherlock Holmes stories and I suppose it was then that I developed the habit of relaxing with whodunits, of which we have accumulated thousands over the years.
When I was 7 or 8 years old, I got the job of delivering the evening papers to the big houses on the one and a half mile stretch between Barrow and Whalley. It was a fairly arduous job because every house had a long drive and it was forbidden to cut across from one house to the next. It was on these paper-delivery trips that I saw and began to recognize the Rolls-Royces, Bentleys, Rileys, Frazer-Nashes and Delages and developed another enthusiasm that has lasted until the present – a love of fast, elegant cars. I wish I had been able to indulge it to a greater extent than I have. A racing driver manqué, perhaps.
---
My brother, Jack, was 7 years older than I and left school at the age of 14 (which was normal at the time). At the age of 15 he decided to take accounting courses and formal examinations set by (I think) the Royal Society of Arts. For this he needed elementary French. It seemed natural to me to pick up his French Grammar and, through curiosity, read and learn the first few chapters. This was the one subject he had real trouble with so, at the age of 10, I found myself coaching him for his French examination. The knowledge thus acquired stood me in good stead when, later that year, I started grammar (secondary) school.
My interest in radio and electricity began at an early age. I used to look forward to reading the latest issue of a magazine with the prophetic title of "Wireless World" in the Clitheroe Public Library every week. I built my first crystal set in the mid '20s. The tuning coils were basket woven on a frame consisting of a cotton reel with a set of wooden rods set radially in drilled holes. The detector crystal was mounted in a chuck at one end of a glass tube and the cat's whisker in a universal joint at the other. In good times the crystal was bought from the store, but I found that a close examination of the chunks of coal in the coal-shed would reveal crystals of germanium that could be broken out of the coal and which worked almost as well as the commercial ones. By the time I started at grammar school in 1928, just after my eleventh birthday, an event occurred which anchors in my memory my modest technical progress at the time. I caught chicken pox and missed what should have been my first week at grammar school.
The doctor was called and I remember well that he was far more intrigued with my electrical gadgetry than he was with my chicken pox. We had no electric power in the house (lighting and cooking was by coal gas) so the main source of power was a second-hand car battery under the bed. A crystal radio was mounted on the wall at the bedside. I had added a single valve (vacuum tube) amplifier to provide enough power to feed a 'pillow speaker' – a dismantled headphone set inserted in the pillow. There was also an electric light consisting (as the doctor remarked) of a 'blue bulb in a bobbin' – a blue-tinted flashlight bulb in a home-made cotton-reel mount hanging over the bed, with a switch on the wall.
Mainly, we listened to the BBC stations which, at that time were 2LO, Manchester and the long-wave (200 Mhz) station at Daventry which blanketed Europe with its high-power transmissions. Commercial stations were prohibited in the UK , but entrepreneurs in France and Luxembourg aimed commercially-sponsored, popular programmes at Britain on the medium waves (Fécamp) and on the long waves (Luxembourg). Many hours were also spent straining to identify the sources of short-wave signals, also received on the crystal set with appropriately-wound short-wave coils plugged into it. Little did I suspect that, within five years, by the age of 14, I would find myself in the radio retail business.
It was during the last year or two at Barrow (1929-31) that I remember reading about Baird's experiments with television using a Nipkow disc. The fact that these experiments led to the first television broadcasts is not widely appreciated. Baird persuaded the BBC to run test broadcasts of TV on their regular transmitters after the radio programmes had signed off. This took place experimentally from 1929. In July 1930, the first television play was transmitted with simultaneous sound and vision – "The Man with the Flower in his Mouth". The BBC adopted Baird's 30-line system in 1932 . By 1932, the 30-line system was mature and exceptionally low-cost in engineering terms – the BBC could use their existing audio transmitters for the low-bandwidth video. The BBC's use of the 30-line Baird System continued until 11th September 1935. It was then replaced with the world's first regular high-resolution (405 lines per picture) electronic television service in 1936.
I saw BBC demonstrations of the Baird system at Radiolympia about 1934. The history of TV is comprehensively covered in Don McLean's superb website, from which some of the above facts have been gleaned.
---
There were two or three types of public secondary school in England at various times: the Grammar School which provided an academic education and prepared students for university entrance, the Central School and the Secondary Modern School. Of the latter type an American professor wrote something like this in Newsweek (I can't find the reference): "In England there are schools called 'Secondary Modern'. They are, in practically every respect like American high schools. The only difference is that no-one in his right mind expects them to prepare students for university". That was why the grammar schools existed. For some reason or other, I had always taken it for granted that I would try for a scholarship to grammar school, in spite of mild objections from my father who saw me as a potential wage-earner at the age of 14.
Entrance to Clitheroe Royal Grammar School (CRGS) was free but it was only possible by passing a scholarship examination. At that time the point of no return for passing this examination was one's 11th birthday. That is contrary to the popular impression that higher education in England was only available to the rich. That was true only of the so-called 'public schools', like Eton and Harrow , but a great many university entrants, even in the '30s, were from grammar schools. The Headmaster of the village school, Mr. Clayton, felt that I was ready to try for a scholarship, so I took the exam. A few weeks before my 11th birthday and, much to my (and my mother's) delight, passed it. Entering CRGS in the fall of 1928 was a major turning point of my life. The School had a great tradition, having been founded by Royal Charter in the year 1554.
There were many differences between CRGS and the high schools today, whether in England or North America. We started French and Latin at the age of 11, physics and chemistry (but not biology) as separate subjects at the same time and algebra, trigonometry and geometry in our first year. Thus we were doing the calculus by the age of 14 and I still have a dated essay on the fixation of atmospheric nitrogen that I wrote when I was 15. We read Shakespeare and Macauley alongside Jeans, Eddington and E.N. da C. Andrade. After matriculation, at 15, we entered the 6th form and specialized, either on science or 'arts'. I took chemistry, physics, maths and french. The chemistry was, by now, largely organic, physical and analytical. I spent hours in the 'prep. room' analyzing the contents of hundreds upon hundreds of anonymous little bottles.
Physics included statics and dynamics with friction and went into electricity and magnetism as far as the wave equations. Higher School Certificate, for us, was the toughest exam we would ever take. Speaking now after years as a scientist, scientific administrator, advisor and consultant I firmly believe the examination system of those days was the best possible preparation for – indeed prototype for – the kind of professional life I have led ever since.
Today's educationalists seem to believe that one kind of school can match the innate abilities and aspirations of all students. However, in the 30s, there were several alternative routes to an appropriate education. Unhappily, most of them have been closed in recent decades. The grammar schools in England have largely been replaced by the so-called comprehensive schools in which the student population is as ill-assorted as in the North American high schools. A serious student now succeeds in spite of the system, not because of it. Or he goes to a private school, if he can afford it, which is a far from perfect alternative. The lack of flexibility in public educational routes and the deleterious effect it has on the quality of higher education is a sad commentary on our so-called civilization.
Travelling to Clitheroe every school day, from the age of eleven, took me out of village life most of the time, except for Sunday morning service at the "Mission Room" – an Anglican service. I spent more and more time in Clitheroe – in the Public Library, at the cinema or, increasingly at the home of my closest friends, Norman and Kenneth Watson, whose parents half adopted me by encouraging me to use their home as my own, when I was in Clitheroe. Over the years at CRGS, the Watson family had an great influence on me. Their father was a professional chemist and the family environment was delightful. They were wonderfully kind and tolerant to a village lad and were largely responsible for whatever graces I acquired. Their daughter, Lorna, who was a few years older than the three of us, taught us ballroom dancing and provided a gracious model for our behaviour. Needless to say, it was not always followed.
We played some cricket and a great deal of tennis in our early teens. The Clitheroe cricket field and the accompanying tennis courts were located right behind the Watsons' house on Pimlico Road. These were grass courts, but we also played often on the hard courts in the beautiful grounds of Clitheroe Castle.
Clitheroe Royal Grammar School consisted, during my time (1928-1936), of two wings, joined by a common assembly hall. One wing was for boys, the other for girls. Classes were quite separate up to the sixth form, by which time the subjects were so specialized that it was no longer feasible to mount separate classes. The playgrounds were adjacent and the School tennis courts were common so our little group soon included two or three of our contemporaries from the Girls' School. We played tennis and bridge and studied and went to the theatre and, later, learned to drive together. We remained close friends throughout my eight years at Grammar School.
Clitheroe Royal Grammar School has maintained high standards throughout the 20th century. Details of its present status may be found on its website.
Live theatre became increasingly important to me during these school years, in several manifestations. I think I was first fascinated by productions of the Gilbert and Sullivan Operettas to which I was taken by my parents every year, from a very early age. They were performed by the inmates and staff of the local "lunatic asylum" – the name everyone then called the Calderstones Mental Institution, which was about a mile from home across the fields from the village of Barrow. I remember the performances as being pretty good, although I have no real frame of reference after so long.
---
Perhaps stimulated by this, a particular technically-minded school friend, Frank Duerden and I staged the annual theatrical productions at school. We designed the lighting, stage mechanics, props, etc. and moved in after classes on a Friday and worked all night to prepare for a dress-rehearsal Saturday morning, followed by matinée and evening performances. The only productions I remember are Ibsen's "The Warriors of Helgeland" (in which I played the small part of Thorold – the only time I ever appeared on stage) and Shaw's "Arms and the Man", the play which provided the theme for the operetta "The Chocolate Soldier". Frank and I also spent a great deal of time designing hi-fi amplifiers and setting up loud speakers on 4-foot square sheets of 1-inch plywood in the corners of the hall. The results were about as hi as fi got in the early to mid-1930s.
Occasionally our family would go to the Grand Theatre in Blackburn, and I thoroughly enjoyed seeing favourite music-hall stars like Gracie Fields and George Formby and comedians I had heard on BBC Radio, such as Gillie Potter, the Western Brothers and George Robey.
I also put on the occasional play at the parish church hall in Great Harwood where we moved from Barrow in 1931. For one reason or another I was not to be involved again in theatrical production until an intensive period in Montreal in the '50s and '60s.
In 1931, we moved from the village of Barrow to the small town of Great Harwood for financial reasons. My father and brother, by this time an accountant, were out of work. By virtue of my Mother's scrimping and saving, in spite of my father's tendency to drink his wage, we had amassed a capital of forty pounds (equivalent to $200 at the time). On this we rented a double-fronted shop in the Market Square of Great Harwood, some six miles from Barrow, and opened a radio business. We didn't have much stock to start with and our income depended largely on my ability to repair faulty radios. The first mains-operated radio I repaired was the first one I had ever seen. This was learning on the job with a vengeance.
Great Harwood was a cotton weaving mill town, but the industry was already past its heyday. Nevertheless there was a living to be eked out in the radio business in the town of 12,000 people and the surrounding villages. Of course we had no car and I have painful memories of walking the streets of Great Harwood carrying large mahogany-cabineted table-model radios for delivery before and after repair. Nevertheless, within a couple of years we had a solid business, a reasonable stock and a car. We also opened a branch in the neighbouring town of Clayton-le-Moors.
Mother and Father served in the store; my brother was the business manager and accountant. He did the purchasing and I looked after the technical side. We had a small living room behind the store, with a tiny kitchen and two bedrooms upstairs. There was a small backyard with a coalhouse and a privy with a "tippler" closet as the only toilet. We built a small hut to accommodate a battery-charging facility. I recall that the rental for the store was seven shillings and sixpence a week (about $1.50 at the time). I must have cleaned and renewed the electrolyte in hundreds of lead-acid batteries, not to mention the caustic electrolyte in a particular kind of high-voltage rechargeable battery.
Occasionally I was left alone for a week or two, during the school holidays, to look after the business and fend for myself. Buying food was easy because the butcher was practically next door and the fish and chip shop (of course!) right across the road. A pound of lamb chops cost 11½d (19c.) and a plate of fish and chips 3d (5c.). A hot, ready-to-eat meat and potato or pie with a pastry crust, or a steak and kidney pudding cost 6d (10c).
During my school holidays my brother Jack and I undertook electrical house-wiring jobs. I remember wiring a whole row of new houses in Clayton-le-Moors. Kit radios also became the rage but, unfortunately appealed to many who were not prepared to undertake the assembly. Consequently, from time to time, I found myself running a one-man assembly line of radio kits for eager customers.
---
In the meantime academic affairs went pretty well, under the circumstances. Putting so much effort into the business had only one aim for me – to enable me to get to university. That was an objective that looked impossible from Barrow, but was looking less and less improbable as our affairs improved. Nevertheless, I still couldn't do it without a scholarship. County and State scholarships were out of the question because they required more preparation than I could afford the time for. The only hope was a school scholarship which would give me £40 a year.
Unfortunately there was only one scholarship and the endowment for it was such that it could only be awarded two years out of three. Of course, it was in the blank year that I graduated as top of the class. So I had to stay on and beat the next year's class also in order to win the scholarship. In addition to that, I took a student loan of a further £40 a year for three years, to be paid back after employment at a rate of £30 a year for four years, interest free.
Furthermore, I had to take the entrance examination to Manchester University. In those days it was a pretty sophisticated paper – wave equations and mechanics with friction, I remember. And so, in September, 1936, I enrolled in the Honours Physics course in the University of Manchester.
At that time, the university was far from being a glorified high school as many universities are today. It was a place to learn, not a place to be taught. You attended the university to read physics – not for the primary purpose of taking physics courses. It was a place of libraries, laboratories, tutorials, informal discussion and, incidentally, classes. I had about seven lectures a week and two or three half-days in the laboratory in my first year. In the rest of the time I had to do a great deal of reading. Examinations were rarely related to any particular text, but were on the topic as a whole. Unless a student had studied a wide range of books on each subject he didn't have a chance of an honours degree. There was no compulsion to work administered by the university. If you cared to work hard and pass – good for you. If you didn't, there was no second chance. It was mandatory to pass the Part I and Part II degree exams at the first attempt for an Honours Degree. Failure of either meant a pass degree at best, with no chance of going on for a higher degree. Today's undergraduates have no idea how such an unyielding environment sharpens the intellect and the determination to succeed. I do not believe that Supplementaries have any place in higher education. But higher education is not what most of today's schools and universities are all about. Now, higher learning has to struggle for survival in a sea of educational mediocrity.
I still remember my first day at Manchester University. After registration the physics students were called to a meeting with a Professor James in one of the laboratories. I can picture it now as we stood in that lab, leaning on the benches, while James quietly but most effectively spent a couple of hours telling us what it meant to be a physicist. He went into detail on the need for absolute integrity in scientific experiment. You must never anticipate the result of an experiment or try to bend the results to suit your theory or to yield to pressures of time, career or politics. You must determine and quantify the probability of experimental error for each experiment, taking into account all possible sources of error.
This was by far the most important lesson I learned in Manchester. I have always been grateful to Professor James for it and I have tried to conduct my professional life accordingly. Unfortunately I never got to know him very well because he left to take a physics chair in South Africa soon afterwards.
The staff of the Physics Department during my three years there exceeded in numbers the honours students. Rutherford had left for Cambridge a few years before and the Physics chair was held, in my first year, by W.L. Bragg, (later, Sir Lawrence), the famous son of a famous father, Sir William (W.H.) Bragg. The Braggs, Father and Son had jointly won the Nobel Prize for physics in 1915. In my second year Bragg left to head the National Physical Laboratory and, the following year, succeeded Rutherford (who died in 1938) at Cambridge. In 1937, for the first time, two full professors were appointed in Manchester, namely D.R. Hartree and P.M.S. Blackett. Hartree was already famous for the Hartree equations. A quiet man, he was also Dean of Music and played the tympani in the University Symphony Orchestra. Blackett's superb qualities were recognized by his appointment to this, one of the leading physics chairs in the country at the age of 40. Blackett was to win the Nobel Prize for physics in 1948. One of the finest experimental physicists of all time, he was to have a crucial influence on my future.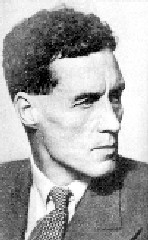 P.M.S. Blackett (later Lord Blackett)
I had read a good deal of physics during eight years of physics classes in grammar school and to meet and work with some of the owners of the famous names I had read about was a heady experience. Even Mr. Kaye, the lab steward who had conducted the famous scintillation experiments with Rutherford was there and became a good friend and advisor. "Jimmy" Nuttall who had worked and published with Rutherford, and Geiger was ending his research years and giving brilliant lectures on electromagnetic theory. Tolansky was lecturing on physical optics, assisted later by Rochester. Bernard Lovell, later of radio astronomy fame, was in his first year as a lecturer and was unmercifully ragged, especially as he had just become engaged to be married. Little did I know at the time that he would become a wartime colleague of mine, in radar.
The Reader (second to the Profs.) was a Swiss called Brentano. He had the propensity for making a piece of apparatus fall apart by merely looking at it, so he coopted me in my second and third years to do all the experimental work for his research in the wave-mechanical theory of photography. It was a unique opportunity.
During my first year at Manchester , I continued to work in the radio business in Great Harwood. The average day started at 6.50 am with a good breakfast of porridge, bacon and eggs and, occasionally a couple of lamb chops grilled on the open fire. The bus to Manchester left at 7.38 from across the Market Square. It was an express coach with deep, comfortable plush seats with headrests, and a quiet gasoline engine – very smooth and silent compared with today's diesels. It was a little under 30 miles from Great Harwood to the Lower Mosley Street bus station in Manchester – passing through eight or nine industrial towns and cities of Lancashire, including Accrington and Bury. Then a 1-mile walk down Oxford Street to "Owen's College" as the university was familiarly known. If I didn't have an early lecture I would sit in a leather armchair in front of the open fire in the University Union, order tea and toasted teacakes and do the Guardian crossword before starting my studies. The Union was like a gentlemen's club (I am conscious that the expression 'dates' me) – entirely run by students, but with strict rules of behaviour. It included debating halls and a "silence room" with desks for study. On the top floor, it was joined to the Women's Union by a large common lounge, open to members of both Unions.
The afternoons were taken up with laboratory work or, occasionally, a game of snooker or billiards in the Union, usually with a close friend Tommy Davenport. Tommy was tall – a string-bean of a youth – with a grave almost clerical mien. He was an odd mixture because he had many brilliantly original ideas, always seemed to know more physics than any of us, but was congenitally incapable of passing an examination.
Sometimes, on Wednesdays, I would take in a movie or, better still, one of the pre-London presentations of a Cochrane revue or a Novello Musical at the Opera House. However, life became real when I returned to Great Harwood at about 6 pm. After dinner I would usually work until 11 pm on radio repairs then, after a snack, study for two or three hours, then catch some sleep before the morning call at 6.50. The reason for this upside-down existence was simple. I decided at the outset that the only way to take advantage of university life, while having to commute, was to participate fully in studies, discussions and lab work and also have some fun during the day because there would be no such opportunities in the evenings.
During my second year, I gradually withdrew from the business as it was then able to support an employee to do the service work. This coincided with my taking on more of Brentano's experimental work in the university. I had passed Part I of the Honours Physics Degree examination in the Spring of 1938 and expected to pass my finals in the spring of 1939 at the end of my third year. Up to my second year (1938), all my summers had been taken up by the radio business. However, in the summer of 1938, I was offered a summer job at the Shirley Institute of the British Cotton Industry Research Association in Didsbury, south of Manchester. This involved travelling about 40 miles each way, every day – a journey which took me right across the centre of Manchester. I could not tie up the family (business) car and the journey by public transport took much too long, so I bought a small car for the purpose. It was a version of the Austin 7, known as the Austin Swallow.
The Swallow Sidecar Company of Blackpool built sporting aluminum bodies on Austin Seven chassis, starting in the late '20s (see Jaguar website). This was a 1930 model, for which I paid 4 guineas in 1938.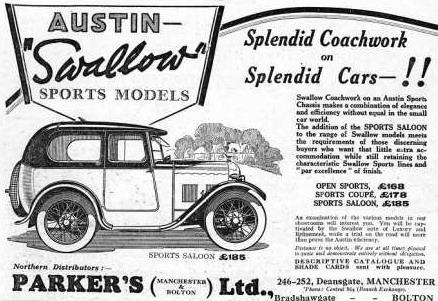 Advertisement in "Autocar", Nov. 9, 1928
The Austin Swallow would be a classic today, for the Swallow Sidecar company, later in the '30s, made the celebrated SS100 – the first mass-produced sports car guaranteed to do 100 mph – and then the SS Jaguar, which was the first of the breed of Jaguars that continues today. I garaged the Austin Swallow in a coal-heaver's garage to which he kindly ferried me back and forth on his Norton 500 motorcycle. The Austin Swallow's was the first engine I ever stripped down, fitting compression rings, grinding in the valves and scraping the big-end bearings. It took all the towing power of the coal truck to give it a running start after the overhaul, for the engine was so tight. Once run in, it had lots of power – perhaps too much, because I sheared a half-axle shaft trying to beat another car from the traffic lights on Oxford Street, Manchester. I remember buying a replacement part at a scrap yard for half a crown. Cars and driving were becoming another of my lifetime enthusiasms.
In my third undergraduate year (1938-39) the work towards the final degree examination went pretty well and I took the finals in the June. During the year, I had become more deeply involved in Brentano's research on the wave-mechanical theory of photographic action, in the course of which I was able to design instruments such as an automatic-recording densitometer which were some years ahead of the appearance of equivalent commercial instruments. I delivered an invited paper to an international conference on the wave-mechanical theory of photography in Manchester about a month before I received the results of the finals and graduated with my first degree. To be on the same programme as scientists like Mott from Bristol was quite an experience for a neophyte physicist.
My ambition until war threatened had been an academic career. I had planned to go straight on to a PhD under J.A. Ratcliffe in the Cavendish Laboratory in the University of Cambridge . It was very attractive prospect. But all that was pre-empted by the war. Instead, in the summer of 1939, I had the interview in London with C.P. Snow and Watson-Watt which opened up my wartime career in radar research. As a result, by mid-August I was on my way to Bawdsey in Suffolk to join a secret research establishment.